I am THRILLED to announce the release of the Rob P. Digital Box Set! It's an 8 GB cassette-shaped USB drive containing every album I ever released! PLUS it has 2 remastered versions of the Pachelbel Rant, the 2006 Penn State version made famous on YouTube, and the original 1997 version from Catch a Rising Star that was played on the Dr. Demento Show in 1999!
The box set includes my 6 studio albums, the new live concert album Rob P. Rocks a Jazz Club, and 3 rare live compilations from 1997–2002 that are out of print! The 2 earliest studio albums, Don't Crowd the Plow and American Cheese, have been remastered for this compilation, and there are liner notes and track listings for each and every album!
The cassette-shaped USB drive comes complete with a cassette case (what we in the biz used to call a "Norelco box") and a full-color J-card insert for complete cassette tape glory!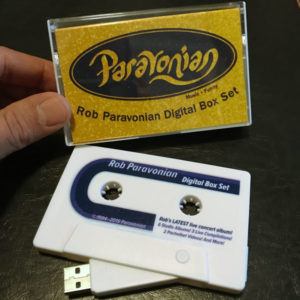 It will be available first and exclusively at FuMP Fest 2019, August 9–11 in Chicago, available in person at my shows after that, and available online starting in October!
The drive includes excellent-quality digital versions of all tracks from every studio album:
• Don't Crowd The Plow–Remastered (1995)
• American Cheese–Remastered (1998)
• Living it Down (2001
• Songs From the Second Floor (2009)
• Keep Your Jazz Hand Strong (2013)
• A/B (2016)
The new live album Rob P. Rocks a Jazz Club (2019)
and three live compilations:
• Playing for Drunks (1997)
• Official Bootleg (2000)
• Live on Both Coasts (2002)
I even made a video so you can see it in action!
---