All 50 States Day 48:
West Virginia!
I landed my first gigs in West Virginia early in my touring career, some of the many shows I did in spring and fall of 1996 after showcasing at the Great Lakes Regional NACA Conference in October of 1995. One of my first shows in the state was at Davis & Elkins College in Elkins, and the school and town had an outdoorsy, crunchy, hippie-ish vibe that I dug. The state is a haven for mountain biking, rafting, hiking, camping, and the like, and there were enclaves and colleges that attracted people looking for those things.
Then again, there are drive-thru convenience stores where you literally drive your car through them! They look like car washes, but instead of soapy brushes and water jets there are bags of chips and 12-packs of beer. It is a many-faceted state.
The capital, Charleston, is right on a river with hills all around and there's a gorgeous capitol building on the banks. I've played University of Charleston twice over the years, and on an early trip to the city I caught a minor league baseball game, the Charleston Alley Cats, at the time an affiliate of the Cincinnati Reds.
Concord College, in the tiny town of Athens, has had me in for shows on three or four occasions and since the small town is without a hotel I stayed in an on-campus guest room. This particular guest room was in the main office building for the school, a building that included some classrooms, so when I would wake up the next morning, on the later side as is my wont as a musician, I would trudge blearily to my car through an active work and educational site, an embarrassing way to start a day.
One of my least favorite shows ever was at a community college outside of Wheeling, a noontime show that was the first time I refused the check afterward. The show was in a loud student cafeteria and there was no sound system, just one mic plugged into the overhead cafeteria speakers, the same speakers used to announce when lunch orders were ready. I played for about 15-20 minutes, went into my closer and ended the show.
The student activities contact, who before the show said there was no other sound equipment available and asked why mics needed to be plugged in anyway, said that I had to do more time. I declined and she said I had to talk to her boss. The faculty guy whose office I ended up in tried to manage me, looking over the contract, saying that I was contracted to do 50-60 minutes and was there any way I would go back out and do some more time because he sure would hate it if I didn't get paid. Since he was looking at the contract I pointed to the section that mandated a sound system operated by qualified personnel. While he tried to reformulate a new argument I told him to keep the check and I was heading out.
It was a season when I would sometimes have 8 or 9 shows in a 5-6 day period with shows every night and some noon shows the same day, so I wouldn't miss the money that much. After a few more bad noon experiences, including shows where schools had me performing in the hallway because "more people would see me that way," I developed a thicker skin and would plow through my hour of material regardless of the audience indifference or hostility. It became a contest and I wasn't going to let the rude crowd keep me from getting my check.
But that was only one bad show mixed in with a lot more good ones, including schools that have had me back multiple times and treated me well. So West Virginia, when this pandemic is over, call me! I'll definitely come back and rock the mountains!
State Capitol, Charleston, 1997
Drive through convenience store that you LITERALLY DRIVE THROUGH!, 2001
Crossing the Ohio River on I-470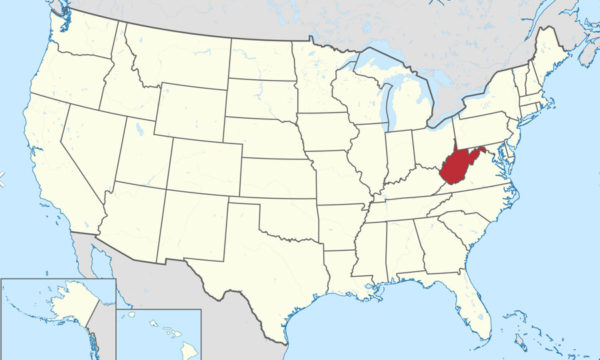 ---