All 50 States Day 35:
Ohio!
I went to Ohio early and often in my touring career, first hitting the state as a feature act at Connextions 2 in Toledo (you know the shows are funny because of the saucy spelling). I was based in Chicago and the booking agent in Grand Rapids, MI called to ask if I could pick up the headliner at Midway Airport to ride to Toledo with me. That headliner was 'Wild' Bill Bauer, an energetic and funny veteran comic who'd been a headliner since the comedy heyday of the 1980s. He was pleasant and supportive throughout the weekend and though I hadn't seen him since the mid-90s during a week at ACME Comedy Company in Minneapolis, I was sad to hear of his passing in 2012.
My first big years performing at colleges were 1996–1997 and Ohio was a big part of that. I showcased at the Great Lakes NACA Conference, performing a 20-minute set for the student activities boards of colleges in Ohio, Michigan, West Virginia, and Western Pennsylvania. I booked so many shows after that conference there were some weeks where I'd have 9 shows in 5 days, doing a noontime show at a community college then another show that night at a school within a couple hours' drive.
I had no idea how many colleges of one- to two thousand students there were in the state. I played everywhere from schools in cities like Capital University in Columbus, Xavier in Cincinnati, and Case Western in Cleveland, to schools in small towns like Muskingum University, Ashland University, Denison, Wilmington, Mt. Union. The list goes on.
There was a fun show at Kenyon College, a beautiful idyllic campus of old stone buildings atop a hill. I arrived early so I poked around the grounds and saw the game of Lacrosse in person for the first time. It seemed so New Englandy and preppie to me. I also remember staying in the lovely Kenyon Inn on campus, and that the show was well attended and opened by a campus improv group.
I also remember a show at Shawnee State in Portsmouth because I was fascinated that a small town had such a large area of mid-19th Century old buildings. The historic district struck me as something that should have been in a much larger city. Apparently Portsmouth, at the confluence of the Scioto and Ohio Rivers, had been a big, bustling city back in the 1800s when commerce flowed along the rivers and not by rail.
See? You learn things by traveling!
Ohio Turnpike sign, 2010
On stage at Ohio University, 2006
Case Western University, 2010
Blimp in Cleveland, 2010
Country road near Lancaster, 2006
Arthur Treachers, Lancaster, 2006
Opining at a gas station in Ohio, 2006
Kenyon College, 1996?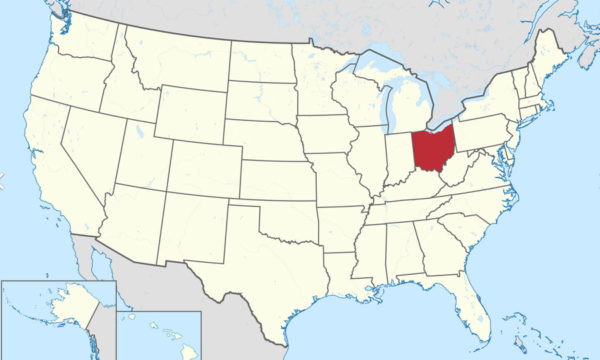 ---