All 50 States Day 17:
Kentucky!
My most recent run-in with Kentucky was in the middle of a crazy trek across the eastern midsection of the country back in 2010, when I went from a gig at U.S.C. in Columbia, SC, hit Asheville, NC the next night, stopped in Nashville for a set the following night at Zanies, and then dropped in to Louisville for a night before a heading to a couple of college gigs in Illinois. Nicholas Anthony, with whom I had recently worked in Vegas, was living in Louisville at the time and we met up, hung out, did sets at the Comedy Caravan, and hit an art show and a bar.
My favorite show ever in Kentucky was a few years before that in Louisville opening for Carlin at the Kentucky Center for the Performing Arts in 2007. It was the 3rd in a series of 3 consecutive shows that took us from Erie, PA to Columbia, MO, to Louisville.
My first experience with Kentucky was during my first ever road gig: in 5th grade traveling to Nashville for a competition with the Waukegan Grade School Orchestra. We even stopped at Mammoth Cave for a tour before hitting Nash Vegas and coming home with a gold medal.
I've played several colleges in the state but just about all of the college shows I did in Kentucky were in the first years of my college touring career, from about 1995-2000. I therefore don't have precise records of when and where the shows were (all my old contracts and physical calendars are in storage, I think), I doubt I have any pictures.
Off the top of my head I can remember names like Berea College, and names that sound familiar when looking at a list of Kentucky colleges include Centre College, maybe Morehead Sate? I know for sure that on Jan 16, 2001 I did two college shows in Louisville, an evening show at Bellarmine College and a noon show at the University of Louisville. I distinctly remember the U of L show being a typical noon show with a loud, inattentive audience in a large student union open area. That show specifically got mentioned in my Life as a Comic episode on noontime college shows cuz I blew some of the money I made on that show on upgrading a rental car in LA to a convertible Trans Am. Thanks U of L for being a terrible audience, cuz that was a sweet ride!
Me on stage at the Comedy Caravan, 2010
Louisville bar, 2010
State line on I-65, 2010
a few frames later, mile 0 on I-65. Check out that rolling shutter!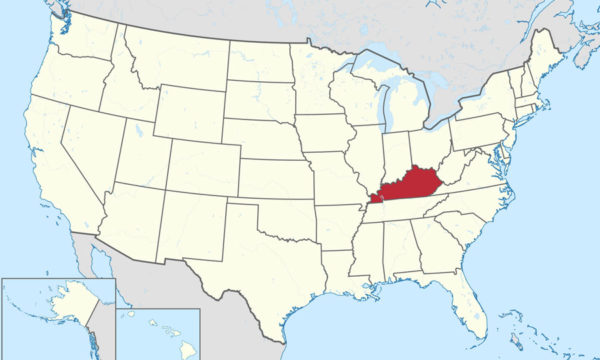 ---