I started recording and producing my songs out of necessity and a DIY ethos, and over the years I think I've gotten pretty good at it. Which makes it nice to apply those producing and arranging skills to helping other artists get their music recorded and sounding amazing. This summer I worked with the hilarious musical duo Sam and Bill arranging, producing, and recording three songs for their EP Christmas in July, and together we had a great time kicking out some hilarious jamz.
Working with a duo as accomplished as Sam and Bill was rewarding because not only are they talented singers and experienced comedy performers, they have great chemistry between them and work incredibly well together. They came in with three well-written funny songs and a clear idea of how they wanted each one to sound. That clarity allowed me to really focus on how to execute an arrangement and production that would best suit each song and genre.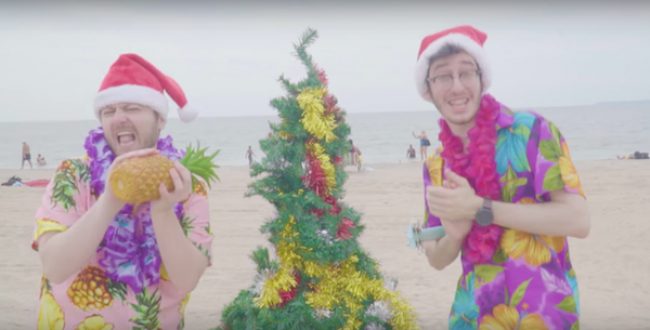 We started with a simple reference recording of them playing the song live on an acoustic guitar. From there I learned the song and started building the studio backing tracks with drums, bass, guitar, keyboards and whatever else the arrangement required. Each of the three songs had a different genre, era, and feel, and I enjoyed the challenge of getting the arrangement dialed in for the right sound.
The first song we worked on was "Kwanza" and they were looking for an OK Go power pop sound, which happens to be right in my wheelhouse with lots of guitars and a tight bass/drum rhythm section. The really fun part was when the end of the song takes a strong psychedelic turn with strings, choral backing vocals, and even a gong.
For the title track, Christmas in July they wrote a Jimmy Buffet-esque resort rock song which required a more laid-back feel—acoustic guitars, and a steel drum part that Sam played (via synth, as my studio's steel drum was not available). I got to break out my lap steel guitar and fill in the production with some twangy licks, and we even recorded several tracks of us clapping live for the breakdown section.
We went with a retro, Phil Spector Wall of Sound for the track "Crystal Lake Christmas" and I got to pile up piano, horn, guitar, and more in a shuffle arrangement in my favorite challenge of the project. There were lots of pauses and breaks that we worked on together to get the timing right and the final product really clicked.
Another fun aspect with working with a duo is blending the two voices together. Sam and Bill create great harmonies and sing together throughout most of their songs, and I had to mix their voices to create the right balance and blend, sometimes bringing Sam to the front a bit, sometimes Bill, and using the same stereo compressor on both voices to unify their sound.
In addition to the tracks on Sam and Bill's EP I produced a track for Noam Osband, which involved a lot of MIDI orchestration, and I wrote and recorded some music for the Iron Mule Film Festival and for video on the travel site Travel Tales Podcast. So I guess I'm saying "it's not always about me!" I enjoy creating and producing music with other people too!
It's all part of my master plan to turn my apartment into the Sun Records Studio of comedy music!
---