"Show Me Something Else"
Behind the songs on The Green L.E.D.s debut album—Track 2
Show Me Something Else probably has the clearest early 80s influence of all the songs on the album with its jangly guitar layered over a drum beat reminiscent of Simple Minds and mixed with some classic synthesizers for good measure. I am really happy with the sound of this track. And it has a one of my best attempts at a guitar solo, which is definitely something that is not my strength so any time a solo sounds halfway decent I consider it a win!
It's another song about soul searching and, like What's In Store, it's not necessarily about finding the answers but finding the things that resonate with you and point you in the right direction. In this case it was the TV we had in the basement of our house growing up.
Like a lot of houses in the midwest we had a basement that was always somewhere between unfinished and finished, a rec room in progress. The were wood-paneled walls, a pull out couch, and a TV where you could watch something away from the commotion of the family or late at night. It's where as a teenager I preferred to watch Saturday Night Live, which, since you had to catch the show live or you'd wait months to see it again, always felt like an event. It made me, a moody awkward teen in Waukegan, Illinois, feel ever so slightly connected to something else, it showed me there was a huge world out there and that there were really cool ways to make fun of it.
Growing up near Chicago I knew that a lot of the iconic original cast came from The Second City and after college I went through their year-long course of improv and sketch classes. It was an important step in my comedic development and a place where I got great insights into writing scenes and comedy songs.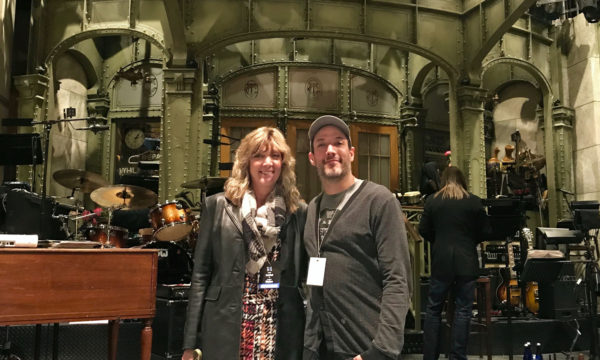 Above: I'm on (the stage of) SNL! My sister and me after an SNL broadcast in 2017
My love of SNL also played a big part of me deciding to give New York a try when it came time to leave Chicago. New York was where a lot of my favorite comedy was happening: Letterman, Late Night with Conan O'Brien, SNL, Comedy Central. Hell, even MTV and VH1 had comedy in those days, and after years of seeing New York City on TV and in movies I wanted to experience it for myself, even if I failed miserably and only lasted a year here.
Well, now it's redacted years later and I'm still in NYC after being pointed in a direction by a signal that came from miles away.
---