All 50 States Day 15:
Iowa!
I went to Iowa early and often in my comedy touring career and the first NACA convention at which I ever showcased was in Iowa (Cedar Rapids, if memory serves). It was the Upper Midwest regional in '95 where I performed a 20-minute set in front of the student activities boards of most of the colleges and universities in the region, which lead to a lot of block booked shows over the next few semesters.
In those first touring years, from 1995-2000, I went to every corner of the state, from Westmar University in LaMars, Waldorf College in north central Forest City, to Mt. Mercy and Coe College around Cedar Rapids. One of my earliest gigs was at Central College in Pella, Iowa, home of their namesake windows and a big-time annual tulip festival.
In this millennium I've been back to Iowa for shows at Drake University in Des Moines (after which I went to see the AAA Iowa Cubs), and I played the Englert Theater at the University of Iowa in the amazing Big 10 college town of Iowa City. I dropped in for a set once at the Des Moines Funny Bone, a top midwest comedy room, and stopped by the Field of Dreams when I was in the area for a show at University of Dubuque. Sadly I can't find my pictures from the Field of Dreams, but I did track down a selfie I took in Eldon, Iowa, in front of the house made famous in Grant Wood's American Gothic. Most importantly, I've made a couple of pilgrimages to the Surf Ballroom in Clear Lake, the venue where Buddy Holly, et al. played their final concert.
To get to shows in Iowa I've driven through snow, ice, rain, and the strong fertilizer smell of late spring. I've also had to cross the state several times on my way to other gigs, and the interstate arteries of I-35 and I-80, crossing like the letter t in Des Moines, were well known to me for several years.
Selfie at American Gothic House in Eldon, 2008
Englert Theater at U. of Iowa, 2010
The Iowa Cubs, 2007
Amana Colonies, 2010
Surf Ballroom Polaroid, 2007?
Selfie at Surf Ballroom monument, 2007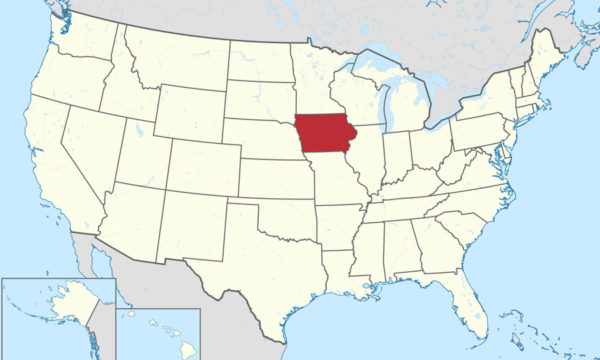 ---