Fun fact about Rob P.: thanks to years of touring as a comedian and musician I've been to all 50 US states! And while we're all on lockdown for the Coronavirus pandemic I figured it was as good a time as any to archive the accomplishment. My plan is to do one a day, I'll go in alphabetical order, and hopefully by the time we get to Wyoming we'll all be able to travel again. Or at least have an effing picnic!
So let's get started with…
Alabama!
I've taken one trip to Alabama and it was brief, a one-night stay for a show at the University of Alabama in Huntsville in April of 2004. It was an "isolated date" as we called them in the college entertainment world, meaning it wasn't part of a block booking and I didn't have any other gigs in the area that week. I did a show at Augustana College in Rock Island, Illinois a few days prior and was staying with family in the Chicago area before and after the trek to Huntsville for the gig.
I remember flying in to Nashville and renting a car for the 2+ hour drive to Huntsville, which is about 20 miles south of the Tennessee-Alabama border, opting for the fly and drive because a flight into Huntsville proper was too pricey. I'm glad I did because just after I crossed into Alabama on I-65 south I saw an interstate rest stop and I was greeted with a good omen for the trip: an actual Saturn 1B rocket.
I love roadside attractions and I love space stuff, especially Apollo-era space stuff, even more; so yeah, I pulled over to see this beast of a rocket up close, on display as part of the Alabama Welcome Center. It was a good omen for the show that night because, what I wasn't aware of until I got on campus, Huntsville is a big engineering and tech hub. NASA's Marshall Flight Center is there, UAH has strong engineering and science programs, and the crowd at my show skewed toward the brainy and nerdy and away from the fratty and party obnoxious students.
I don't remember many specifics about the show and my journal entries from the time are more focused on getting over a bad breakup, but I do remember it being a fun show and a good trip. Any time you get to see a rocket up close is a good trip.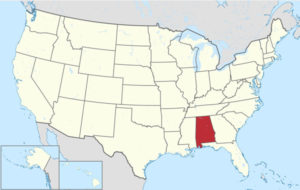 ---