QED celebrated its 1-year anniversary on Nov. 1st, which means Don't Feed the Musicians! also turned 1! We had a great crowd on hand  for a really fun line-up of musical performers, I played some songs of mine that over the years had gone obsolete, and, as I try to do every month at the show, I debuted some brand new material.
The show kicked off with my summary of the 2000 film Duets, which stars Huey Lewis and Gwyneth Paltrow leading an ensemble cast in a fascinatingly flawed movie set in the rough-and-tumble (and non-existent) world of competitive karaoke. One of my favorite things about doings shows at QED is the multimedia capabilities, allowing me to run a slideshow from an iPad on stage to include visual gags and video. I played the trailer of the film and mocked up some alternate ways I think they should have revealed that Huey's character was the father of Gwyneth's.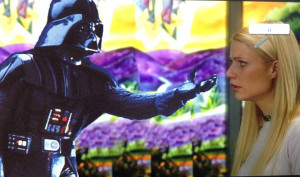 I then played my first obsolete tune of the night, "Wasting My Minutes" from my 2001 album Living it Down, which has gone obsolete because it's about having a limited-minute cell phone plan. The song went over well for several years, but as texting became the primary method of communication and cell phone plans started to feature unlimited minutes, the song became less relevant and fell out of my rotation. Switching gears I played a brand new song "Garbage Time," which is a ballad that I sang along to backing tracks, which gave it that extra, super-dramatic Meatloaf-style cheese.
The violin duo of Elana Estrin & Adam Grannick dazzled the crowd with a few upbeat pieces, then Tim Ellis took the stage to bust out 3 of the 12 tight tunes from his new album "Casual Pimpin': Twelve Tight Tunes." Lauren O'Brien and Mitch DiStefano, aside from being the best dressed performers of the night, then came up and rocked the house, after jetting up to Queens straight from the recording studio where they were working on Lauren's new album.
I played a few more obsolete numbers, like a song I wrote in the 1990s about the militia movement that was popular at the time, and Too Much Information, which sadly became dated as the expression, and its initialized "TMI" became overused and hacky. On the newer side of things I debuted another song from the musical I wrote (and hope to stage in a festival in 2016) which went over well and helped boost my confidence in the project.
It was a really fun show to celebrate a really fun year of shows at QED. And can you believe that the ticket that lets you see all of the above is only $5? If you're living in or traveling to NYC come check out the show. We'll be back at it the third Saturday of every month!
---