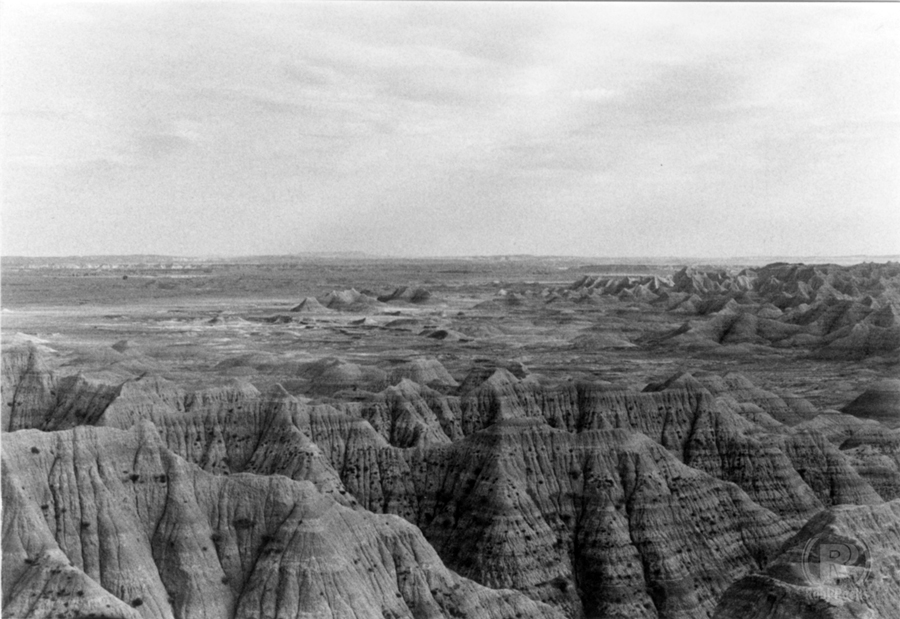 All 50 States Day 41:
South Dakota!
My first trip to South Dakota I ended up spending the night riding out a blizzard in my car. It was April 1995 and I was on my way to a show at Black Hills State University which is so far west in South Dakota it's only 12 miles shy of Wyoming. I left Chicago at noon the day before the show, planning to drive about 12 hours or so, get a hotel for the night somewhere around Rapid City and finish the drive the next day.
West of Sioux Falls it started to snow and it was looking like it could be one of those intense, heavy spring snowstorms that dump a foot of snow in about 5 minutes. As I stopped for gas approaching the middle of the state, where the Missouri River cuts across I-90, the snow started turning to rain so I filled up and pressed on. I climbed out of the valley of the Missouri River and the snow came back with a vengeance. It was piling up on the interstate and I tried to keep my tires in the tracks cut by the big trucks but my then-brand-new Honda Civic was so tiny I could only keep one side's wheels in the tracks at a time.
I knew I had to pull over, but with so much snow on the ground it was hard to see where the shoulder was. Plus, I didn't want to be out in the open and getting buried in the snow while the semis were still barreling down the interstate. I needed to press on to the next exit where I could at least pull off the interstate and hopefully park under the overpass. Being the middle of South Dakota, the next exit was about 5 miles away, and it felt like an eternity trudging along at about 25 mph while semis passed on the left kicking up so much snow it looked like I was driving through a car wash.
I was able to get to the exit and I pitched myself under the westbound lanes of I-90 near Reliance, SD. In front of me there was a semi parked under the eastbound lanes, which was reassuring because I figured the driver at least had a CB radio should we need assistance.
I pulled over around midnight and it snowed hard until about 10 am. Luckily with my mostly full tank of gas I was able to run the engine enough to stay warm. I listened to news radio hoping for weather updates but the only stations I got overnight were from Denver and even Oklahoma City. Super helpful. The plows showed up around noon and thanks to the shelter of the overpass no digging out was required. I headed back to Chamberlain to wait and see when the highway would reopen and to call the school and tell them I might not make the gig. We ended up rescheduling for the following September…
Which was another epic trip because it resulted in my most epic roll of film ever!
I've already posted one shot from that black and white roll of film that was loaded into my Pentax K-1000, it was of Carhenge in Nebraska, which I visited on after my make up date at Black Hills State. On my return trip to South Dakota my plan was to drive out a couple of days early, maybe stop at the Mitchell Corn Palace (a real thing) and, weather permitting, camp in the badlands for a night.
It was the weekend after Labor Day and the forecast called for sunny and 70s. I hit Mitchell, SD during the Corn Palace Festival when the streets were filled with carnival rides and funnel cake vendors. Then I made it to the Badlands, which was quiet at the beginning of the off season, and I set up my tent near a couple of other groups of young people: a group of 4 college age guys on a cross country trip, and two young women crossing the country to look at grad schools.
That night as the sun set in the west a full moon began to rise in the east and we went to a talk given by a park ranger. The next day we hiked around, and took a drive through an animal preserve to see a prairie dog town and a herd of buffalo up close. We all swapped info and I did get a postcard from the women, but it had no return address. It's hard to believe in these days of social media that it's even possible to loose touch with people but it was really easy in those days, especially in your early 20s when you moved and changed phone numbers every year or more.
I've done a lot of shows in South Dakota over the years, from Sioux Falls to Rapid City, from Yankton to Vermillion to Brookings to Madison… On days off in the area I would stay in Sioux Falls, which at the time was the Headquarters of Gateway Computers (which would be shipped in cowhide printed boxes) and the town had a hip, tech hub vibe and felt like a mini-Minneapolis. I even spent an off night going to a CBA game (Sioux Falls Sky Force vs. the Grand Rapids Thunder). Thanks to a food drive the team was running the admission price was a can of Dinty Moore Beef Stew, which I purchased 10 minutes earlier at a small grocery.
If I ever dig up my address books and contracts from those early touring days I'll be able to officially document all of my stops in the state. Until then, enjoy these shots from my Most Epic Roll of Film Ever!
Shots from The Most Epic Roll of Film Ever!