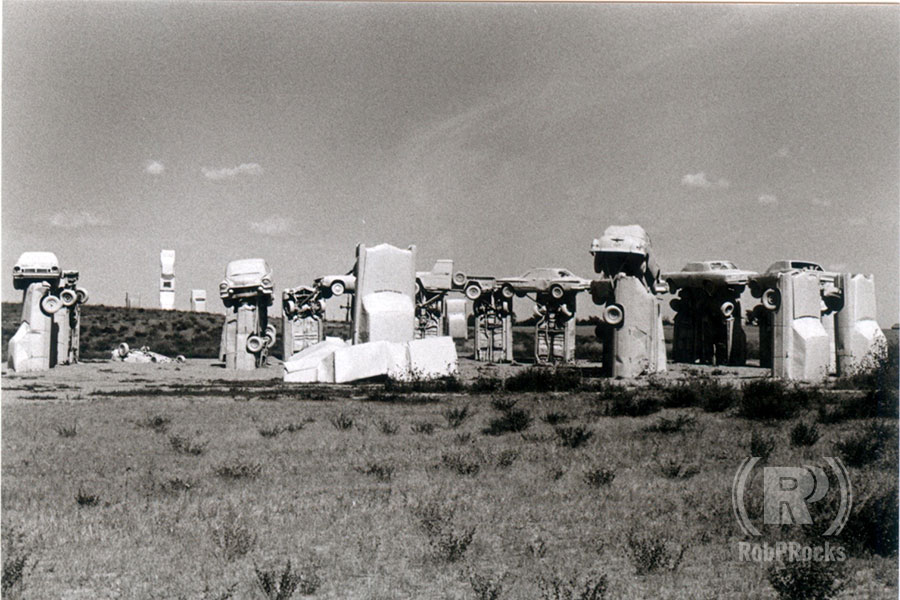 All 50 States Day 27:
Nebraska!
One of my favorite pictures from all of my travels comes from an unofficial stop in Nebraska. I was driving through the chunk of the state that's wedged between Colorado and South Dakota, on my way to a gig in Sterling Colorado after a show in Spearfish, SD. On that trip, in September of 1995, I had my old Pentax K1000 camera with me and it was loaded with black and white film. So many of my favorite travel pics are from that roll and here marks the first appearance of a frame from that legendary spool. Behold: Carhenge!
You're darn right that's a recreation of Stonehenge made out of junk cars! If you've been following this series you know I love me some roadside attractions. I've visited the Field of Dreams in Iowa, the Spam Museum in Minnesota, the Thing in Arizona, so when I saw that something called "Carhenge" was only a few miles off my route there was no way I was not going to stop in and check it out. It's even noted on the Rand McNally Road Atlas so you know it's important!
Yes, I've also been to Nebraska for shows, playing University of Nebraska and Nebraska Weslyan in Lincoln, Creighton in Omaha, Midland Lutheran College in Freemont, and a run of noontime shows at community colleges in Grand Island, Hastings, and Columbia. For those noon shows I took my video camera along and documented the glory of playing community college cafeterias in the middle of the day for my Life as a Comic series.
I also made time to stop by a decommissioned naval munitions plant, upon which the Hastings branch of Central Community College stood. Because historical markers are like roadside attractions coupled with the magic of history! <the more you know star gif>
Glorious, magnificent Carhenge, 1995
Selfie at naval munitions plant, 2007
frame grab from Life as a Comic, in Grand Island, NE, 2007
another LaaC frame grab, either Hastings or Columbia, NE, 2007