All 50 States Day 12:
Idaho!
Though I didn't have any shows in Idaho on my first big trek through the Northwest back in '97 I did spend a consequential off night in Boise. It was the night I decided to cut off my distinctive super-long hair, after an unsolicited suggestion from an off-duty stripper.
During that first trip I had a film camera with me and took a couple of pictures in the state, including one of a dormant wooden roller coaster in the off season. Since there was no geo-tagging on the old school film cameras it takes some work to figure out where the pictures were taken, and luckily the name "Silverwood" can be seen on the roller coaster. Still in operation, Silverwood Amusement Park lies alongside U.S. Highway 95 north of Coeur d'Alene, Idaho, in the skinny northern reaches of the state. I must have passed the coaster as I headed south from Hwy 2 (The Great Northern) after my show in Havre, MT.
Another picture from that roll is from downtown Boise, of an art deco building that, thanks to more visible signs and google sleuthing, turns out to be called the Hoff Building, which was built in 1930 as the Hotel Boise. That's not where I met the off-duty stripper.
On subsequent trips to the northwest I did in fact play some shows in Idaho, including Albertson College outside of Boise, and North Idaho College up in beautiful Coeur d'Alene. In back-to-back years ('02 & '03) I played shows at Idaho State in Pocatello, and after one of the shows I was treated to my favorite karaoke rendition of "Girl From Ipanema," sung by two Brazilian exchange students who eschewed the lyrics on the monitor and sang the song in Portuguese.
No pictures of karaoke night exist, and the only other image I found in my archives from Idaho was a random picture of my hotel room in Pocatello. At the time I was taking pictures of gaudily designed hotel and motel rooms, I have no idea why. I guess that's how I entertained myself on the road before we were on the internet 24/7.
Oh yeah, the off-duty stripper story: I was staying in Boise on an off night and I stopped in at a rock music-friendly bar I probably found by going through the local indy arts paper (that's how we found stuff before Yelp). It was a slow weeknight with just a couple of regulars when a young, attractive, very dolled up woman made a big entrance. She announced her presence with a big hello, bright red lipstick, a leather jacket, and a low-cut shirt offering ample WonderBra (it was the 90s) clevage.
She proclaimed she was back from Seattle, hadn't visited Boise in forever, and was incredibly busy dancing in the big city. I kept to myself as she made the rounds catching up with the regulars and she eventually sat next to me for a minute to ask me what my deal was. I said I was a musician passing through (I prefer claiming musician as my vocation over comedian, it leads to fewer follow up questions). We chatted for a minute and then she offered, "you'd be a better looking guy if you cut your hair, it's dated."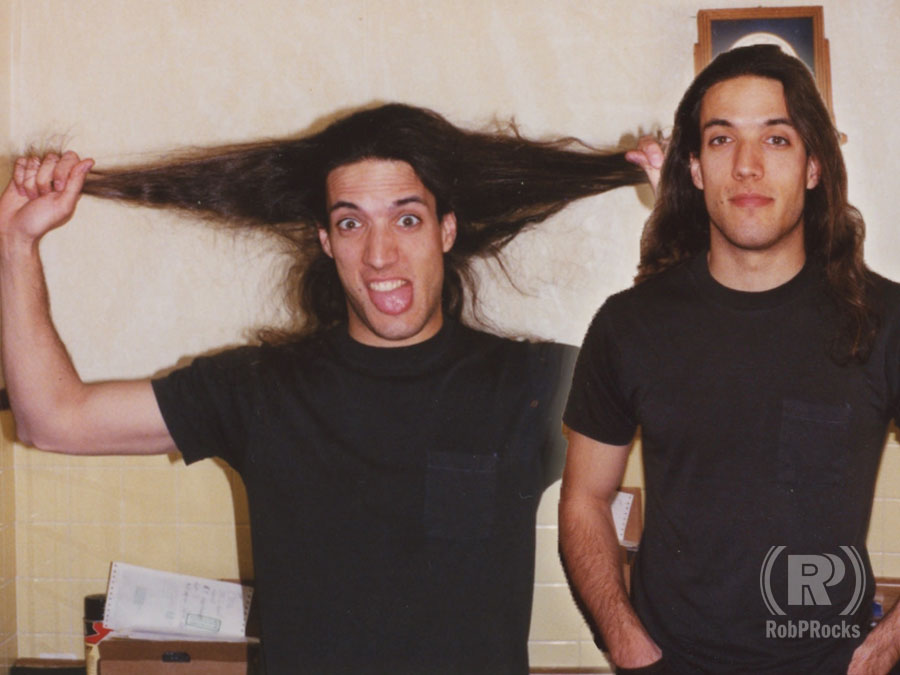 Now that's not the only reason I cut my hair the day after I got back to Illinois after that trip, but it definitely was that little extra kick in the vanity I needed to take the plunge. As a performer it's more than just fear of change, drastically altering your look leads to the eventual expense of getting new headshots and promo pics. In fact, when my college agent at the time asked for more headshots to send to schools and I said I needed time to get new ones because I had cut my hair, there was dead silence on the other line. During that silence I realized that he viewed my long hair as a selling point, a crucial feature of my marketability, more than my musical or comedic talent.
I have since gone from shaggy to short, and from short hair to the current buzz cut, because I love reinvention (and my hair keeps getting thinner). But reinvention is good. I'm like Madonna, but, you know, a guy. And a comedian. Oh, and I can't dance. But other than that…