Thanks to all that came to the big Record Recall Party at Union Hall, the show was a ton of fun and thankfully there were no injuries! 
I crammed the lineup with some of my favorite performers and they turned in some fine and fun performances. First off was our gracious host for the evening, a wonderful comedian, a good friend, and one of the first comedians I met after moving to New York Peggy O'Brien (a.k.a. The Notorious P.O.B.)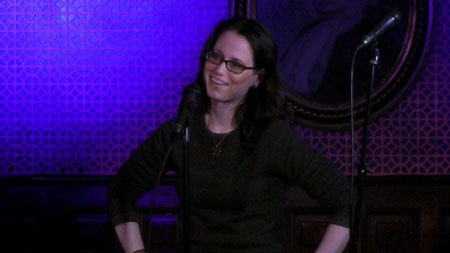 Next up, to add a little music and a lotta class to the affair we were treated to a lovely acoustic set from A Brief View of the Hudson, who get double bonus points for dragging an upright bass player to the gig! If you haven't heard Ann Enzminger sing you're missing something beautiful (listen closely to "G Train" or "Keep Your Jazz Hand Strong" on my latest album and you can hear her) and A Brief View belted out three great tunes through the top-notch Union Hall soundsystem.
Tom Shillue, a well-known and hilarious comedian and storyteller, took the stage next, and though people usually have to pony up the big bucks to see him my crowd was treated to a engaging and very funny set and story about the Blizzard of '78 in Massachusetts at NO EXTRA CHARGE! I do this for you, the discerning comedy audience.
And then it was my turn to kick out the jams. I had a great time performing in such an intimate setting, and I threw in some deeper cuts off the latest album, including rare performances of "I'm Not Afraid of Zombies" and "I Don't Want to be Your Turkey Bacon." Even more spontaneous and fun was inviting Joel Herzig, A Brief View's bass player up on stage for "Pushing Band Candy" which sounded extra smooth with an upright bass backing it up (I may even post the audio on SoundCloud if my recording turned out, stay tuned).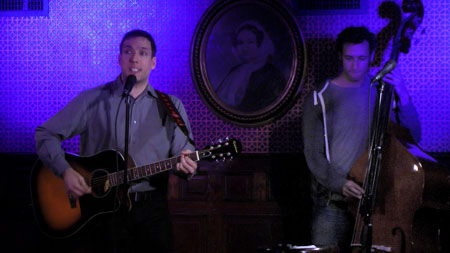 Thanks again to all who helped make the night so much fun, and Keep Your Jazz Hand Strong!
---