Rob Paravonian's Bio

In 120 words or less:
Rob Paravonian is a comedian and musician known the world over for his Pachelbel Rant and viral videos which have been viewed millions of times. Using music to get the laughs, Rob has opened for George Carlin and Lily Tomlin, has appeared on Comedy Central and VH1, and has toured everywhere from Alaska to Afghanistan. His intelligent material and likeable demeanor get audiences laughing at everything from classical music to themselves. With wit and charm, this "polite smart ass" mixes music and comedy as well as he mixes his Midwestern friendliness with big city edginess. A veteran comic and a solid musician, Rob Paravonian is a unique comedian who has brought laughs to people the world over.
Biography
Rob discovered music at an early age, learning cello at age six and playing it from grade school through to the Waukegan High School Symphony (yes, there was a Waukeagn High School Symphony). At age 10 Rob got his first taste of life on the road when the Grade School Orchestra went to nationals in Nashville, and at 13 he went to Florida with the High School Chamber Orchestra.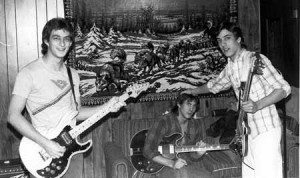 While in high school, Rob taught himself guitar and bass and began playing in bands, much to the dismay of his music instructors. While he was still underage, he played in bars in Chicago, Milwaukee, and once he went to college, the greater Los Angeles area.
Although music had been the bulk of his life up until college, as an undergrad Rob pursued his other passion and studied writing. U.S.C.'s creative writing program was headed by author T.C. Boyle and Rob focused on short fiction and novellas.
Rob also found a new love while in college–comedy–and he began performing at anything-goes shows in artsy cafes in L.A. (the precursor to the alternative comedy trend). The variety in these shows encouraged Rob to experiment mixing his life-long love of music with his comedy and the response from audiences and peers alike was overwhelmingly positive.
Comedy and rock took Rob back to Chicago after college, where he studied improvisation and ensemble work at the legendary Second City Training Center, while playing gigs and recording with his critically-acclaimed band The Steppingstones. Pursuing stand up, Rob became a regular at the Improv and began going on the road, playing the Midwest clubs and headlining colleges from coast to coast. Taking the songs from his act into the studio, Rob recorded the first of his CD's Don't Crowd the Plow, in Chicago, which led to his first airplay on the legendary comedy music showcase The Dr. Demento Show. Rob's stand up career began to flourish and Rob soon decided to pursue stand up full time by making the move east to New York.
In New York, Rob quickly made a name for himself as an intelligent and unique performer. Rob became a regular at Catch a Rising Star's Big Bad Music Show, which led to his discovery by Comedy Central, where he has appeared twice on Premium Blend and was also featured on their Hi Fi Party special. Rob also became established in the downtown alternative comedy scene performing at Surf Reality, Luna Lounge and many other quintessential alt-comedy venues.
In late 2006, Rob posted a video of his performance piece "Pachelbel Rant" on YouTube (an earlier, audio-only version had been a favorite on the Dr. Demento Show) and it soon went viral, garnering hundreds of thousands of views in just a few weeks. Now surpassing 8, 10, 12, 14 million views, the Pachelbel Rant is known the world over thanks to some industrious fans who have subtitled the piece in French, Spanish, German, Portuguese and Italian.
The success of the Pachelbel Rant brought a new level of visibility to Rob's work, and also led him to be the opening act for the legendary George Carlin for several dates on his final "It's Bad For Ya" tour in 2007-2008. In the fall of 2008 Rob traveled to Edinburgh, Scotland and performed in the Edinburgh Free Fringe Festival, making his first U.K. appearances; and in 2009 Rob opened for another legend, Lily Tomlin, during her first-ever shows in Las Vegas at the MGM Grand.
Branching out from stand up comedy, Rob created three one-man shows which he has performed in New York, Chicago and Los Angeles, including development spaces run by Comedy Central and NBC. He has written two one-act plays, one of which was a finalist in The Network's One-Act Festival in 2008, and for several years he wrote for New York-based sketch group Spurn. In 2015 Rob took some time off to write a full-length musical Breaking the Band, which he hopes to get produced soon, and in 2016 he produced a weekly series of spoof commercials called 52 Sellout.
2019 will see the release of Rob's first full-length concert album, Rob P. Rocks a Jazz Club, recorded live in Brooklyn, NY. His past studio albums include A/B  released in late 2016, "Keep Your Jazz Hand Strong" (2013) Songs From The Second Floor (2009),  Living it Down (2001), American Cheese (1998) and Don't Crowd the Plow (1995).